Jeremy Webert became a new student at the Riffler Institute and one of the new teammates of the Blues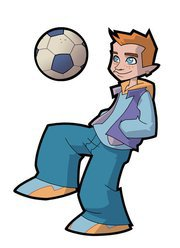 Team/ Rifflers (or Bleus De Port Marie.) He appeared in Season 2.
Physical Appearance
Edit
Jeremy is a white male kid with orange spiky hair and blue eyes. When he first came he wore a yellow hoodie with possibly a purple sleeveless jacket. Sometime after joining the Bleus De Port Marie, (Blues Team/Rifflers) he changed to wearing a blue long sleeve shirt.
Personality
Edit
Jeremy started off as a prankster. He's been expelled from 8 schools before coming to the Riffler Institute and was warned by Principal Adelaide that the Riffler Institute was his last chance and if he got expelled one more time he'd be sent to reform school. Will Jeremy finally change his ways and behave himself or is he going to end up at Reform school?
Jeremy is good at playing Street Football but he can be a show off. And he hasn't done well in school. He's even been criticized even by his teammates, which motivated him to train better for Street Football. He was also told he didn't get good grades and couldn't go with his friends to Senegai, and it helped him to study better and get Cs.
Jeremy can be selfish and and over-confident and very annoying. He is also a show-off. He's not all bad though, he does possess some good qualities and is caring and somewhat sensitive. He's also aware of his failures.
Relationships
Edit
Jeremy has a brother named Ben, who looks a lot like Jeremy, only smaller. Jeremy Webert's father left him and his mother when Jeremy was one year old and remarried and had another son, that being Ben.
Samira, who also apperared at the beginning of Season 2 but later in the same episode he made his debut, is Jeremy's girlfriend.
Jeremy is also friends with and teammates with Tag, Brains, Eloise, and Samira.
Jeremy was previously in a group called the "Skyrunners."
Jeremy's father left him and his mother when he was one-year-old.
Jeremy gets sea sick.
He once was the substitute captain for the Rifflers (Blues Team) when Tag got sick with food poisoning.
Jeremy also likes to eat.
Jeremy rarely cries.